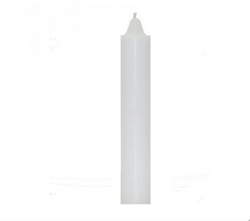 Shop Embracing Spirituality
Customized Candle Work
Image used for display purposes only. This is not the candle you will receive.
WHAT IT IS:
Candles work if it is prepared properly and expertly. These candle works will be customized to your specific desires and prepared personally by me. This work is interactive and this means that I will carefully monitor each set of your candles to see their progress. The reason for this is that there are many things to factor into actually achieving your desired results.
I will work with you until we reach that goal!
However, bear in mind: To every positive, there is a negative. This is balance. If there is something that is hindering your progress to your desire, we will see this in how the candles perform. When we see this, we will halt the work and go a different direction to clear out clutter that is responsible for the hinderance.
_
FUN FACT: It was THIS candle work that gave me a huge sum of money when I had been going through a very difficult financial period. The work had come to me in a dream when I needed it for something major. It was during this period that I tried running away from spirituality and so I stopped working.
And then this dream came to me. I did not know what the candles were for or why I should do this work, but I threw caution to the wind and did as the spirits instructed. It was to be exactly 3 days after that I received the money I needed in two large manilla envelopes. And this did two things: it resurrected my faith, and also showed me that candle work 

does

 work.
-
WHAT YOU GET:
One set of 3 Jumbo Candles
Instructions card
WHAT HAPPENS:
- As soon as you receive your work, you will also received your instructions on how to use the candles. We will keep in contact during the duration of this work so that I can assist you through it.
- When you make your purchase, I will use the information you provide to begin preparing your work.
IF YOU CHOOSE LOVE:
If you choose love as your desire, I will require these things:
Your Date of Birth
Intended Lover (optional)
You may add these details in the Notes section during checkout.
IF YOU CHOOSE PROSPERITY:
If you choose prosperity as your desire, I will require these additional details:
You may add these details in the Notes section during checkout.