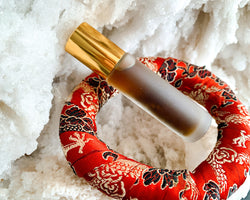 Shop Embracing Spirituality
Obara's Love Perfume
WHAT IT IS:
This Love perfume is for all persons who need love and intimacy in their lives. This mixture is so great it can even lead you to the altar, but it is not just for finding your other half, it is for all to see you and love you.
What You Get: 
BACKGROUND:
There was a time a long time ago that I gave this to one of my clients. About a year later, he called me and asked if he could slow down using it for some time because "the attention was too much" and he became afraid. In other words, everywhere he went, people wanted to be with him or in his space. I was a young spiritualist then and I worried if this mixture I created was too strong, and so I stopped making it.
But then a few years later, I thought who doesn't want love? And so, I have resurrected it and have decided to offer it to those willing to try it.