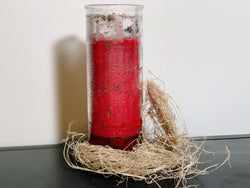 Shop Embracing Spirituality
Powerful "Steady Love" Candle Set (Pre-Dressed)
This incredible spiritually dressed and prepped candle set is as its name implies; it steadies relationships, synchronizes love, and balances the romance, making the couple feel as one. It is tried, true, and powerful.
GREAT FOR:
Those who do not feel balanced in their relationship, or as though your lover has lost interest, or perhaps there are too many interferences in your love life's happiness.

Also great for those who desire a lover

This candle set keeps love ripe as well as brings peace and unity between couples (or intended lovers).

What You Get:
THREE Glass Candles 
Spiritual message sheet
Instructions
For this work, Obara Meji will keep in contact with you as your candles burn to "read" the messages they will bring to you.
This particular trio is often meant to be burned in sets of 3 and 3 times for completion. However, such is not always the case for every person or for every case.