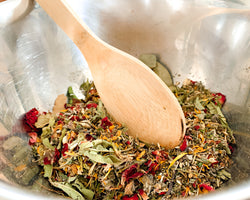 Shop Embracing Spirituality
"Unblock My Way" Spiritual Bath Herbs
This potent spiritual bath removes negative energy and will unblock anything that may be blocking your love, goodness, success, opportunities, etc. Unbeknownst to many, we encounter negative interferences everyday. It does not only have to be through witchcraft, but can even be encountered on the train or bus.
This bath will strip away all spiritual dirt that does not belong to you. 
May your way be unblocked always!
What You Get:
Instructions
Packet of Bath Herbs
Packet of Incense
Candle
*This bath was spiritually prepared and mixed by Obara Meji.