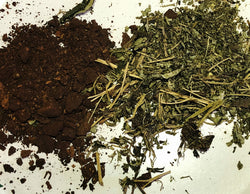 Shop Embracing Spirituality
Herb & Red Prosperity Incense Set
WHAT IT IS:
This prosperity attracting incense is a powerful medicine that pulls prosperity in all forms. Once used, abundance will find you in many ways: a new increase in finances, a new job promotion (or new job), a bright opportunity, a phone call with good news, a money-making idea, or even a new lover or spouse! The results of this medicine can manifest in one or many ways that will attract an abundance of sweetness into your life.
-
This incense is best for anyone who has bills due, or anyone who is simply in need of a quick financial help!
SET INCLUDES: Two packets containing  0.5 oz (10ML) of content
You will receive instructions on how to use.
WHAT YOU SHOULD KNOW:
After purchasing, please read the instructions and caution before opening or touching this product!
This incense will need to be burned on incense charcoal (available here)
MADE BY
:
This medicine was painstakingly mixed by Obara Meji and traditionalist elders in Nigeria, West Africa.